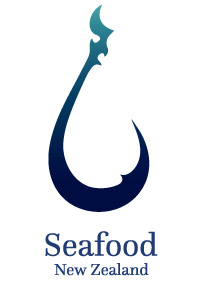 The inspiration of the logo is based off the story 'Maui and the Giant Fish', I thought the story represents Seafood NZ really well being such a huge provider of fish for NZ. The shape on the inside of the hook is based off Hawkes Bay, which in Maori legend is the shape of the Hei Matau (fish hook) which was used to catch the giant fish.
The top of the logo is based off Seafood NZ's current logo so that it would still have some familiarity with the current branding. I also wanted to keep the simplicity of the current logo in the design.

​​​​​​​
I choose to use a gradient in the logo to represent all the different depths of sea at which Seafood NZ fish from.